How to get an apostille... in New York and nationwide?

JANUARY 15, 2017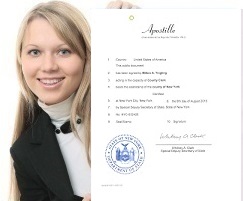 Documents, such as vital records (birth, marriage, death certificates), divorce judgments, powers of attorney, notarized affidavits, etc. frequently need to be used abroad. However, the documents are not acceptable in foreign countries if they do not have certain seals an stamps. Before a document can be used in a foreign country, it must be authenticated. The procedure authenticating documents to be used abroad is called "legalisation" or "attestation".
In the past the process involved officials of the country where the document was issued as well as the foreign Embassy or Consulate of the country where the document is to be used. Because of the number of authorities involved, the legalisation process is frequently slow, cumbersome and costly.
Related search terms: "new york apostille", "apostille legalization", "what is apostille", "how to get an apostille in new york", "is apostille required"