OCTOBER 8, 2016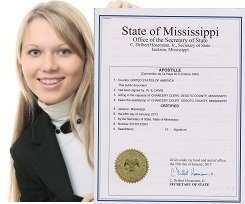 Why do apostilles look different in different states?
Yes, they do look different. In fact, they look so different that on many occasions the receiving agencies overseas get confused. In wost cases apostilled documents get rejected because foreign officials expect apostilles from the United States to look exactly like apostilles from other foreign countries.
The fact is that apostilles from different U.S. states do not have to look exactly the same. An apostille must meet the general requirements specified in the Hague Apostille Convention. Color, fonts, images, seals, ways apostilles are attached to documents, etc. can vary depending on the preferences of the issuing apostille agency.
Related search terms: "hague apostille", "what does apostille look like", "apostille rejected", "apostille in spanish", "different apostilles"

---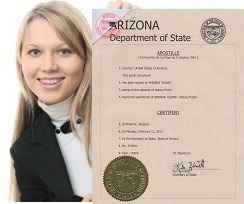 General apostille requirements: an apostille must (1) be identified as an Apostille, (2) include the short version of the French title of the Convention (Convention de La Haye du 5 octobre 1961), (3) and include a box with the 10 numbered standard informational items, namely (1) country where the apostille is being issued ("United States of America"); (2) name of the official (whose signature is being certified by an apostille); (3) the position or capasity of this official; (4) name of of the seal on the attached document, (5) name of the city where the apostille is being issued; (6) the date when the apostille is being issued; (7) position of the official person who signed the apostille; (8) consecutive number of the apostille; (9) the seal of the apostille issuing agency; (10) signature.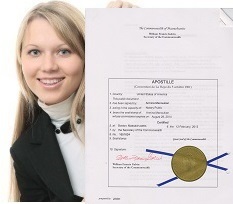 An apostille may also provide additional information. For example, an Apostille may (a) provide extra information about the public document to which it relates, (b) recall the limited effect of an Apostille i.e., that it only certifies the origin of the public document to which it relates, (c) provide a web-address (URL) of a register where the origin of the Apostille may be verified, (d) or specify that the Apostille is not to be used in the country that issued it. However, such additional information must be outside the box that holds the 10 numbered standard informational items.
How are apostilles affixed to documents?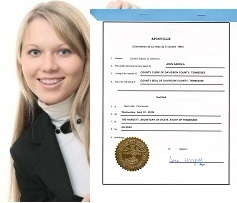 An Apostille must be placed directly on the document itself (as a stamp) or on a separate attached page (called an allonge). Apostilles may be affixed by various means, including rubber stamps, self-adhesive stickers, impressed seals, etc. If an Apostille is placed on a separate page, this page can be attached to the underlying document by a variety of means, including glue, grommets, staples, ribbons, wax seals, etc. All of these means are acceptable under the Convention. Failure to affix an Apostille in a particular manner is not a basis for refusing the Apostille.